THE SOUND BITE THAT HURTS
The recent news this summer of 2018 set off alarms all around the country regarding 2000 "children being ripped from the arms of parents", and the 200 children still trying to be returned. In the news you have heard much about the "loopholes" that have let this happen. You have heard the hate filled comments on both sides of the fense. There is spin in every direction about this one, and this blog is not going there.
THE PROBLEM BEHIND THE SOUND BITE
THE SHOCKING TRUTH about Children being ripped from Parents arms
Where I am going is the concern regarding the numbers quoted numbers of today – 750 children per day beging taken from American Families in Family Courts. To include the statements that over the last 30 years there have been 22 million children taken from American Homes. Everyone wants to protect children and want to ensure they are not in harms way (unless they are a mad with some serious mental health issues).
Even the Supreme Court has ruled that it has to be assumed that Parents will act in the best interests of their children, unless proven incapable. This is why we have a constitution and the protections under that constitution to ensure that everyone is protected in court from all involved.
The problem that has surfaced in the last decade is that 1 out of 17 children that are taken are at seriuos risk of harm and abuse. The rest are victims of a system that has failed our American Families. Research has shown that children are the healthiest and the most successful when they are raised by both parents. Yet the courts do not believe in 50/50. Right there the situation is set up to who is the best parent and who is not.
PARENTS'RIGHTS.ORG is dedicated to protecting children by empowering parents. In there article on The Corrupt Business of CPS – Working with over 300 CPS cases Nancy Schaefer, Georgia State Senate, 50th District (revised September 25, 2008) conclusion is that "there is no responsibility and no accountability in Child Protective Services." The system has loopholes that have increased the problem and increased the numbers across the board since Walter Mondell (1974) and later Bill (& Hillary) Clinton (1997) Family Act strips parents of any rights of protection (like a terrorist) allowing the state to proceed with intervention plans of standard of care. This means anyone, that does not follow their predefined plan of what should be done, is at risk of losing their children.
IMPACT NEWS' Article 2018 – 40% of American Families are at Risk reports "A stunning number of American children are subjected to at least one Child Protective Services investigation by the time they reach 18 years old. According to a study published by the American Journal of Public Health, almost 4 out of every 10 American children will experience some kind of social worker investigation into allegations of child abuse or maltreatment at some point in their childhood. (Source.)" There is a large gap between the beginning of the crisis (health issues, proverty, conflict, and other crises) and when these families end up in front of the State in court.
ERASING FAMILY is "a movie that investigates family bond obstruction from multiple perspectives: Children whose moms or dads have been erased from their lives and siblings who can't see each other. Part emotional roller coaster, part investigative expose, we follow the money to expose why loving moms and dads are erased from their kid's lives by divorce courts. …The film will show how programs that encourage mediation and shared parenting which will prevent future childhood trauma, making divorce and separation less costly both financially and emotionally." The complicated stories just looking for safe answers.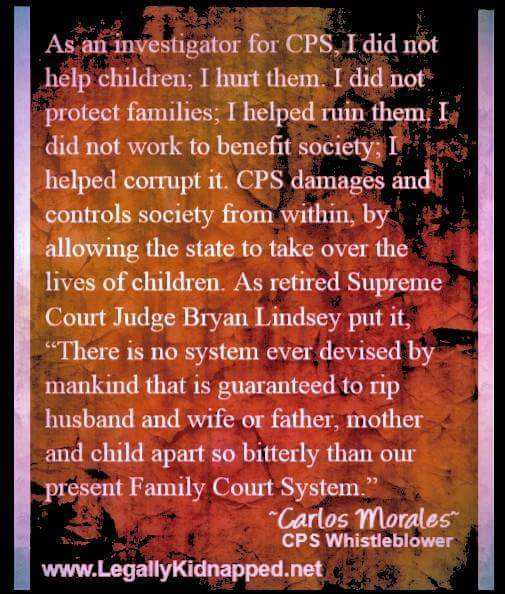 MEDICAL KIDNAP reports in their blog… – "Seventy-five percent of children being removed from their homes is due to "neglect." But are children really being neglected, or is it the "opinions" of social workers that these children were being deprived intentionally of necessities of "adequate" food, clothing, shelter, medical care, or supervision, when in fact, the family was just poor?" The numbers are just shocking in this detaled report.
In the last 25 years we have learned how damaging Traumatic Abuse in childhood can be into Adulthood (and burden that falls on the state to carefore these damage children through their lives). Thus, the state devised a system to effect children at risk into a standard of care that should result in declining numbers. The problem continued when the statistics from the foster care system, so they put in place a speedy process to ensure removal of children into new adopted homes to bypass the trauma by securing the children. Medication is used in over 50% of these cases. Incentatives to the agencies, the professionals, the foster parents, the services and the adoptive parents to make options more successful in early intervention of children at risk. The escalation of state services for more workers, more options and more money is a failing system that cost a tremendous amount of money and the results across the board continue to rise.
This is epidemic, and something has to be done.
ENCOMPASS INTEGRATED HEALTH DEDICATION
Life is going to happen. When families can not find a solution to any problem that comes up, they get trapped in a spiral until we end up in crisis. The current options when a crisis is to push through it hoping things inprove. The truth is many times everything escalates. The issue can be in any area of life to any class of American family: health concerns, special needs, loss of income, divorce or death, things tend to just get worse. How long can we really go before we are in utter crisis? The old saying how many months until we would be homeless – 3, 6 or 2 years? Some of these issues go on for 6 plus with no options or resolution before they end up in court. A government social program will not resolve these issues.
Our goal is to develop resources, tools and referrals where families, as problems start to come up, find better solutions.
A healthy community is made up of healthy families. Thus when a family has a problem, they need resources to find the best solutions as soon as possible. Now if there is not a stepping stone in help, the situation escalates where the only option in the current system is to divide the family to produce what they call positive outcomes. The real damage from this process is still unknown, and will come out in the next decade.
The old system does not work, and has failed families. The new solution will be families working together with new innovative ways to provide the resources to navigate the different concerns facing families.
We see the best option is to empower families during crisis to provide a path back to Integrated Health.
CALL TO ACTION
Parents have to avoid the HELL of having children ripped from their arms. The LOOPHOLES have to be closed. New bridges for families are required to resolve these concerns. Hope it does not happen to you as a parent, a grandparent, an aunt or a friend. Truly it is hell. Thus, all the pilot programs and parents working on new solutions will find the answer they wish they had found when it happened to them.