By Chris Cloud
Sadly, Disasters often last FAR longer than our Attention Spans
News cycles are a dubious fact of life these days. Something Huge happens, something cataclysmic shocks us all, dominates every waking and breathless moment of the 24 hour a day news feeds. Facebook is flooded with Outrage, moral indignation, armchair quarterbacking, Opinion, and sincere expressions of Empathy. Then, something ELSE happens. Something ELSE comes to the breathless forefront of our conscience. Something ELSE dominates our attention, our Empathy, our relief efforts.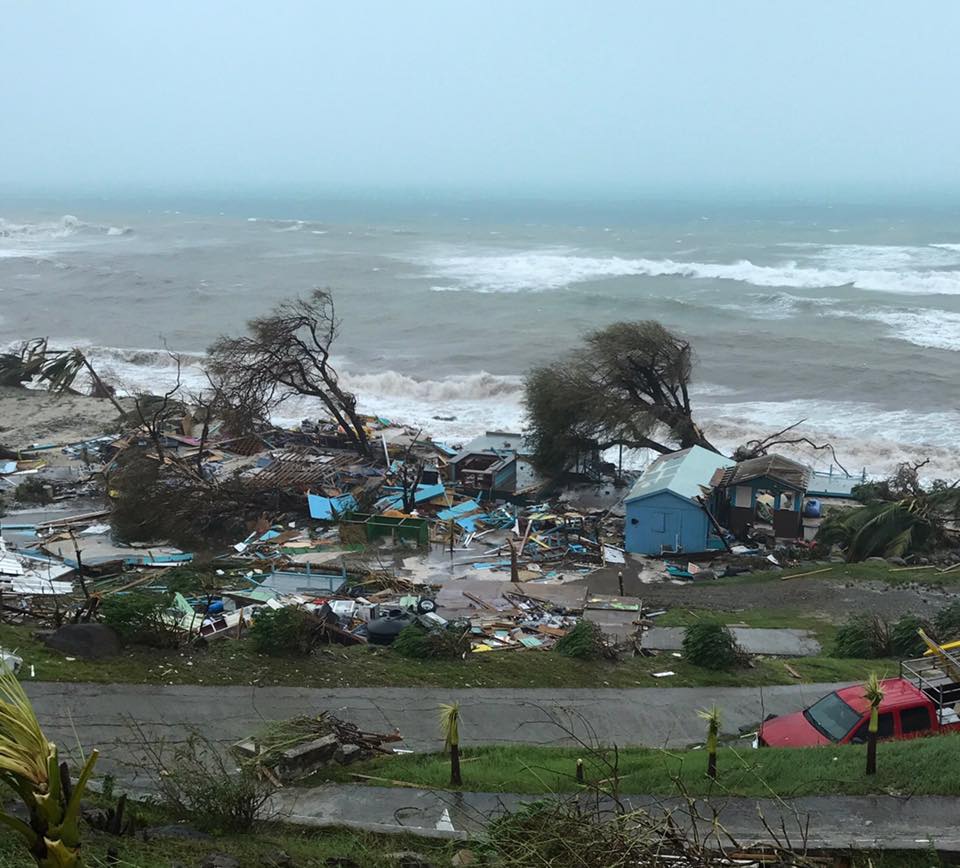 Alas, as is so often the case, a disaster outlives the collective conscience, and the relief efforts. Those left in the aftermath continue to deal with the destruction, death, loss, and discomfort of being displaced, losing everything, burying loved ones. They then begin to feel the Added sad sorry weariness of being forgotten, feeling left by the wayside.
Such is the case with our precious little island, where until March we had called Home for two and a half years. Unbelievably, my dear friends and family have had Additional layers of misery added to their misfortune. Allow me please to explain how the situation on Jost Van Dyke in the British Virgin Islands is a sadly unique.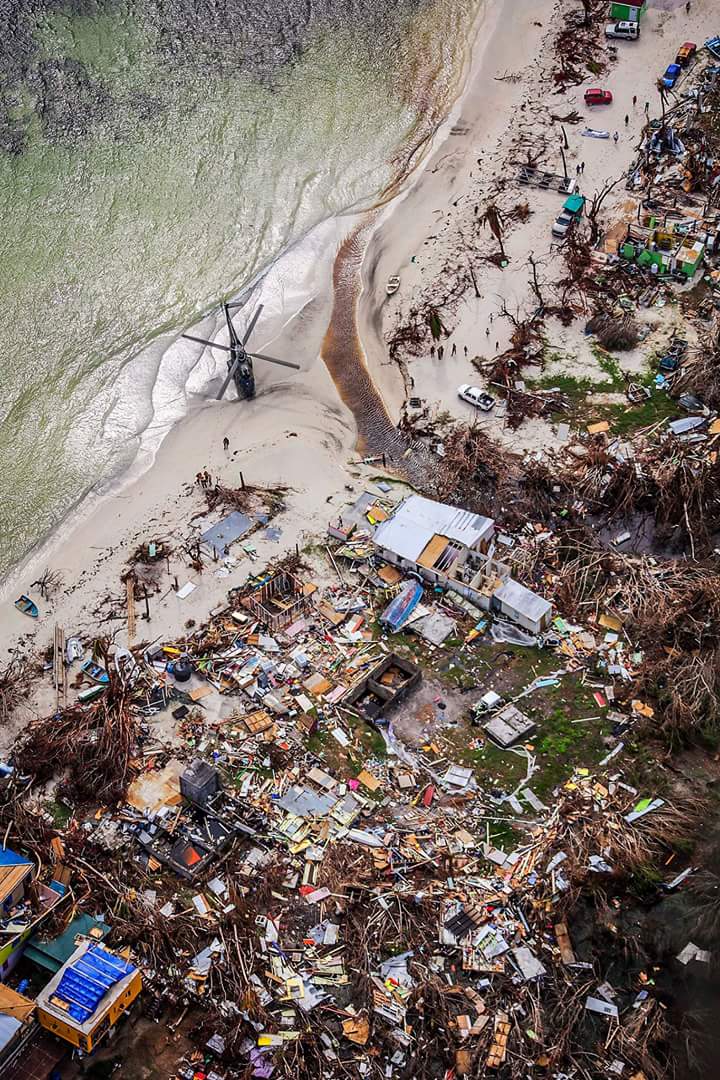 The overwhelming majority of goods that finally land in the end consumer's hand follow a supply chain. When a tourist on Jost Van Dyke pops the cap off a bottle of suds, that ends a very long journey that bottle has made. The bottle (and several of it's friends) was loaded into a pickup truck from the local dock and driven to the bar. It came across on a small regional ferry from Tortola, where it was trucked from one side of the island to another, after it was brought from Saint Thomas in the USVI aboard another (slightly larger) ferry. It had arrived in the Freight port on Saint Thomas via an ocean-going freighter that brought it from San Juan on Puerto Rico, where it had arrived aboard another ocean-going freighter from either Houston or Miami.
Now consider the layers and degrees that have conspired to Vex our delightful little Island. First, Hurricane Irene destroyed the pickup truck that brought the bottle from the dock to the bar. It destroyed the dock the local ferry landed at. The storm left the inter-island ferry perched atop the Customs House, upside down. It destroyed the entire infrastructure on Tortola itself, it destroyed the larger ferry that went from Tortola to Saint Thomas. The ferry dock and trucking and freight port on Saint Thomas were all damaged or destroyed.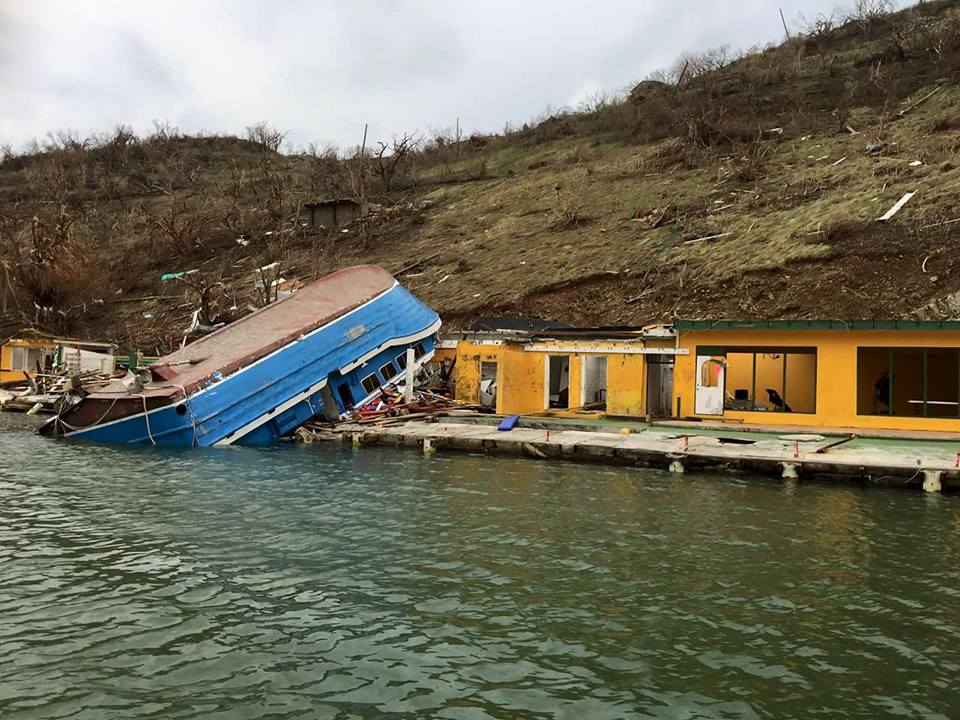 The Virgin Islands (both US and British) were destroyed. However, at least the SUPPLY chain was not SEVERED. South Florida and the East Coast could send relief aid via Puerto Rico. Sadly, Houston was already offline and suffering their own disaster after Hurricane Harvey.
Then, the unthinkable happened, and the Entire Island of Puerto Rico was decimated by Maria. Our lifeline has been severed. Harvey had already put a serious hurting on the relief aid LEAVING the States. Now it is almost impossible to get ANY supplies, as nothing that arrives on Puerto Rico Leaves that island.
We have been in near constant communications (using our FaceBook Page JVD United) with many on the island, as well as some, located in other parts of the Caribbean yet very vested in the wellbeing of Jost Van Dyke. We have been fortunate enough to be able to generate, nurture and coax some alternative methods of freight delivery to our little community.
One of which is a privately owned 55' sailing catamaran scheduled to depart Washington D.C. on Saturday the 28th. They have most graciously offered every spare inch on their boat to carry donated items, to be delivered directly to Jost Van Dyke ten days later! We are meeting with them to load the vessel the morning of the 28th, and would welcome any additional volunteers to join us in loading, and donations are ALWAYS welcomed! The fine folks at International Rescue Group (a sort of "Clearing House" of volunteer organizations), have arranged rendezvous of different donations and helpers.
Please feel free to reach out to Debbie or me to discuss arrangements. The Jost Van Dyke Preservation Society is an Excellent, Devoted, first-class organization, concentrating their efforts and talents on logistical organizations. There has been an Amazon Wishlist Registry set up, to facilitate donating and to assure our friends and family receive what they REALLY need. We would be honored to be met by friends and neighbors willing to share in easing the continued (and often worsening) plight of those still struggling with the near complete devastation of that little slice of paradise.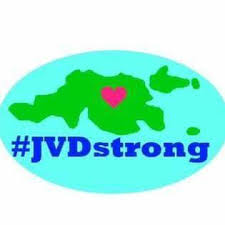 All the Best, Chris and Debbie Cloud